Waaaaah!!! AWA is next weekend and I am so excited!
I have been kinda cluttered with school work lately so working on cosplays has to be juggled.
Isnt it always like this? Oh well, knowing me I will magically have everything done on time~
I think pressure makes me work faster. *
My classes are actually really easy this year! I only have 2 back-to-back classes on Tuesdays and Thursdays, so I have a lot of free time! I only have one cosplay left to finish! Im so excited! I really cant wait to see you all!
I have been in the habit of posting a lot of progress pics and I dont really know why. Some of my costumes I have kept hidden so I can surprise people when its all finished but...Its super painful hiding it!
Here are some progress pictures of the stuff ive been working on :
* This was one of the newest techniques ive ever learned. One of my friends helped me with the idea! Since kira's (from Arcana Heart 3) hair looks like cat ears, I decided to make hair covered cat ears. It was really successful but too me 7 hours ><; However, I consider it a success!
Sadly, I wont be wearing Kira for very long since she doesnt wear much and I have other cosplays I need to wear more. But I will be wearing her again next spring/ summer!
* My other recent project is my phone for Hatate Himekaidou (Touhou Project) One of my friends gave me his phone which I sanded down and painted. The whole thing is hand painted in many layers of white and yellow. I then measured the checkers and painted those on. Then I glossed the whole thing, added the heart sticker and made the phone charm. Its a small painted dowel with some furr on the end. I watered down some paint and put it on the tip of the brush to make it look like its been used~ There is also a bell on the charm strap..this is going to be obnoxious

♥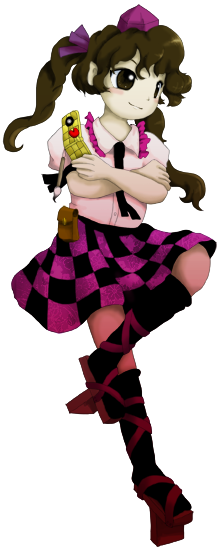 I will also be walking around on Tengu geta that my friends dad made for me! I am really excited and cant wait to feel awesome and tall!
I am also currently working on my segment for the Touhou Panel at AWA~ I will be doing a small segment on Youkai and Japanese Mythology! Tengu are my favorite so be prepared! fufufu~
So here is my lineup for this years AWA :
(I dont have any specific times yet because some of these are subject to change)
Make sure to look for me!! I cant wait to see you all! <33
Thanks for reading and see you all soon!